Since the internet was having it's first days of public appearance, I realized the importance of the changes it will bring. So from the early 90s I had some sort of a personal web site presence at all times.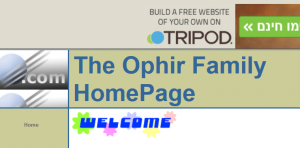 In the beginning it was a simple personal web site hosted on some free web hosting provider. The ones that I recall now are the late GeoCities (and this was the original url), Tripod (with this url or this one) and Batcave.
In 1998 I've registered my first domain with ISOC-IL. Those where different times, where you could get your domain for life time, for a one time registration fee (it is only recently, with their "Let my co.il Go" campaign that ISOC-IL realized what a mistake it was). I wanted ophir.com but was already taken (by an Israeli electro-optics company). Same as ophir.co.il (another Israeli company). ophir.org was taken by someone, so I was left with ophir.org.il.
At about that time I started to host my personal site with my newly registered domain under some shared hosting companies. The first was unitedwebhosting.com. I don't think they exist now days (the domain give you another host company). It was absurdly expensive (something around 20$ a month), and lacked in many features. It was OK for a beginner static web site but as I looked later for a dynamic web site with better performance – I decided to switch to GoDaddy.
I choose GoDaddy because they had all the features I needed (emails, PHP, MySQL databases) and were priced very cheap as compared with what I was accustomed to pay (started as 9.95$/m and reduced during time to 6.95$/m). I got a fairly unpopulated shred hosting server and everything was good until I made a small but critical mistake. I wanted shell (ssh) access. That was it. GoDaddy needed to move me to another shared hosting server. This time I got an over populated server (more than 500 users) and suffered sever performance and technical issues. All my support request would not resolve them. I even begged to be moved back to my previous server and was willing to let go of the ssh access, with no avail. I decided to leave GoDaddy.
Some advertisement about HostGator caught my eyes and I contacted them. They seemed to be a good replacement for GoDaddy, so I moved. The price was a bit higher (9.95$/m), but acceptable. At the beginning everything worked great. I even had a shell access and good performance. But as time progressed, performance began to deteriorate. Eventually my site would take sometime around 10 seconds to load. The smae GoDaddy story repeated here – the support tickets would not resolve the issues, and they tried to up-sell me to a virtual private server with a considerable increase in monthly costs. I decided to leave HostGator.
I was experimenting with DigitalOcean at the time for some programming projects that required a cheap back-end solution. It turns out that with DigitalOcean I can get a dedicated server, with SSD storage, for a reasonable price. Performance could be boosted by both being alone (or with limited number of users) on the server and the SSD storage which was fast and efficient. So I moved to DO. Currently the price is 10$/m for 30GB SSD and 1 GB RAM, 1 CPU. I set up all my systems myself (Email servers, Database server, Web server and the applications – WordPress, Joomla, Gallery2, Piwigo, Webtress etc.). The only caveat is that you sometimes get a banned IP (probably due to previously owned spammers) so you may need to iterate IPs until you find a stable good one.
This blog is currently hosted withing my site with DO (along with another blog, the family site, the family tree site, picture albums and more).
Credits: past web site images provided by The Internet Archives – Wayback Machine.