From CNET CTIA 2008 blog:
WorldMate Live coming to Windows phones
Last November, MobiMate revealed WorldMate Live for BlackBerry. A large stride ahead of its traditional business-class travel software, WorldMate Live got some souped-up features, including online management tools and functionality to push flight status alerts and scheduling reminders to the phone.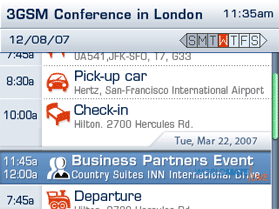 In a few more weeks, WorldMate Live will come to Windows Mobile phones, the number two platform pick for businesses, and therefore frequent corporate jetsetters. I got a preview today at the CTIA Wireless conference, and it looks good. By "good" I mean nearly identical to the BlackBerry version of WorldMate Live, with perhaps one or two navigation and interface tweaks. Other than that, the app is expected to behave identically and contain the same content services, like currency conversion, a live itinerary, real-time weather reporting, world clocks, and so on.
MobiMate hopes to add WorldMate Live for Symbian to the product family by the end of 2008.
(Posted by Jessica Dolcourt, April 2nd)